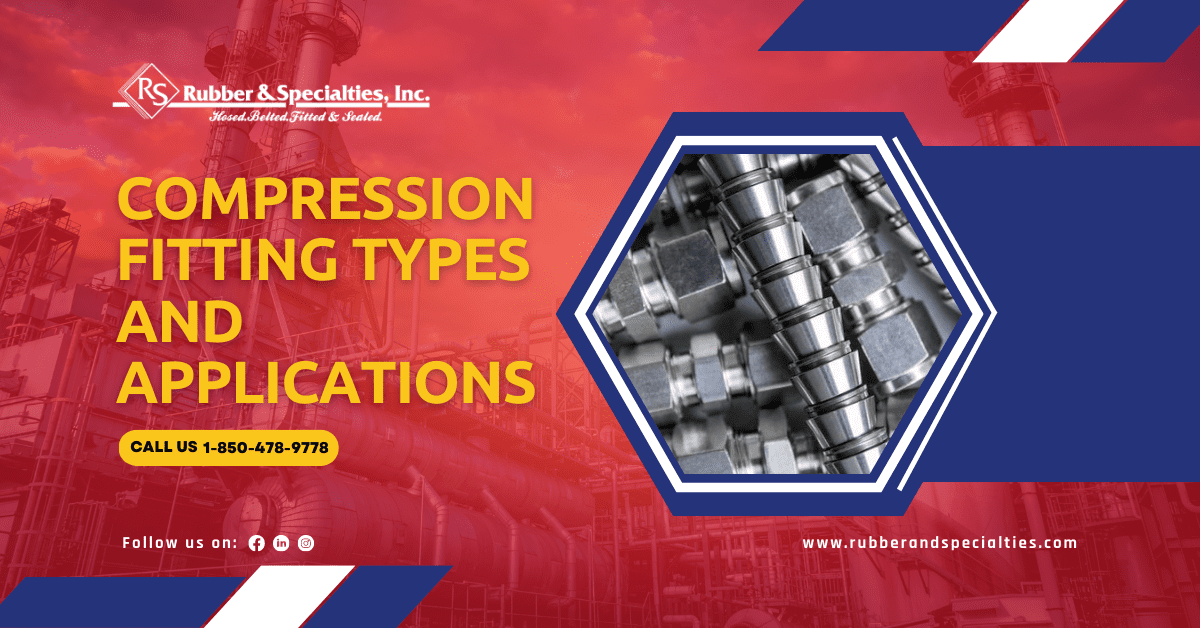 Compression Fitting Types and Applications
Compression fittings, a term often interchangeable with instrumentation or tube fittings, are made up of a compression nut, ferrule and fitting body. There are single and double ferrule compression fittings, each suitable for a leak tight seal. However, double ferrule fittings are used in higher pressure applications and provide superior media containment. Both types are used for the transfer of liquids or gas, often of caustic media and/or at very high pressures in certain instrumentation tube fitting applications.
Metal compression fittings are made of traditional materials such as brass, stainless steel or carbon steel. For extreme high corrosion and high pressure applications more exotic metals are used, such as Hastelloy-C®, Monel®, Inconel, alloy 400 and UNS10276. And Along with some stainless steel alloys, fittings made from these materials can withstand pressures of up to 10,000 PSI and allowable working temperatures up to 1,000°F.
Additionally, though not at the above pressures and temperatures, brass compression fittings are very common in plumbing applications, providing a safe watertight seal for copper tubing without the use of heat to sweat the tube and fitting.
Applications
Gas Line Compression Fittings
Compression fittings are also ideal for connecting gas lines. Brass fittings are often used when running low pressures above ground. If using PTFE tape, ensure it's rated for gas grade connections.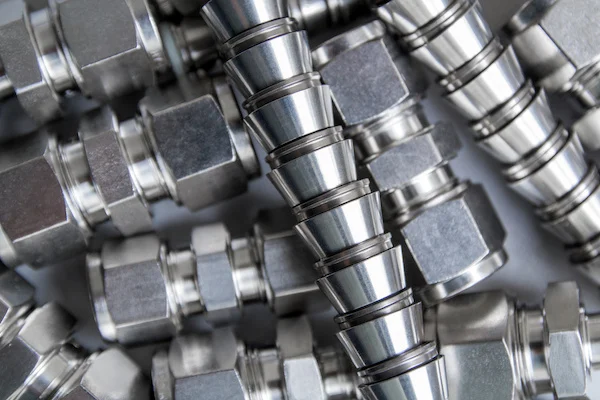 Additionally, in the event of leaks, many gas line compression fittings must be accessible and not hidden behind walls, under floors or underground. They must be easy to reach, in case maintenance is required. A good example is running compressed natural gas (CNG) tube lines. Fire codes do not allow for mechanical connections of this stainless steel tubing, which usually runs hundreds of feet underground from a tank to the dispensers (auto or truck filling device).
Chemical Processing
Due to the media being transferred and the conversion processes in the chemical industry, instrumentation fittings must be stable, highly corrosion resistant and able to withstand wide temperature ranges. From sampling to production processes, instrumentation fittings play a critical role in the chemical industry. Many of these applications require exotic metals such as Hastelloy-C, Monel, Inconel and others.
Oil & Gas
Instrumentation compression fittings are used for upstream and downstream applications. They are used heavily in oilfield logging and other exploration. Tube fittings made of stainless steel and the other exotic alloys mentioned above are prevalent on offshore oil rigs, especially in harsh conditions such as the North Sea. Another application is the use of bulkhead instrumentation fittings to connect tubing lines to gages and valves in instrument panels and on skids in oil & gas applications.
Medical & Pharmaceutical
Medical device equipment and pharmaceutical production are highly dependent on instrumentation components. They are used in life monitoring devices, surgical equipment and the processing of chemical compounds used in pharmaceutical production.
Power Generation
Compression fittings allow for leak free connections in process, power, nuclear and other critical power generating applications. In many instances, particularly nuclear applications, exotic metals such as Hastelloy-C, Monel, Inconel and other high corrosion resistant materials are required.
Aerospace
Tube fittings are used in virtually any conceivable application or piece of equipment in aerospace, and suppliers are required to carry specific certifications and accreditations. Instrumentation components are used in everything from life support systems in aircraft and other equipment, to shipbuilding. NASA and major OEMs such as Boeing, Airbus, Voyager, Starlab and all other major aerospace companies use compression fittings in a multitude of applications.
Assembly
Compression fittings connect tubing for gas or fluid conveyance, making a leak-free assembly in sizes from 1/16 through 2 inch tube OD. They are easy to assemble by simply:
Cut and deburr the tube end
Insert the tube into the fitting nut, slipping past the ferrule(s), until it seats firmly on the internal shoulder of the fitting body
Finger-tighten the nut in a clockwise direction
Use a marker or grease pen to mark the nut at the six o'clock position
Hold the fitting body stable with a box wrench
Seat the ferrules into the tubing by using another wrench to tighten the nut, using the line marked at six o'clock for your datum, and tighten the nut:

3/4 turn for fitting sizes 1/16″ to 3/16″
1 ¼ turns for fitting sizes 1/4″ to 1″
Pre-grip the ferrules onto the tube using a hydraulic swaging tool and tighten the nut 1 ½ turns for fitting sizes over 1"
Then use a gap inspection gauge to ensure the installation pull-up is sufficient. Place the inspection gauge next to the gap between the nut and body hexes of the fitting. Without forcing, attempt to slide the gauge into the gap. The fitting is suitably tightened if the gauge does not go into the gap. If it does enter the gap that nut will require additional tightening.
---
SOURCE: https://blog.brennaninc.com/compression-fitting-types-applications