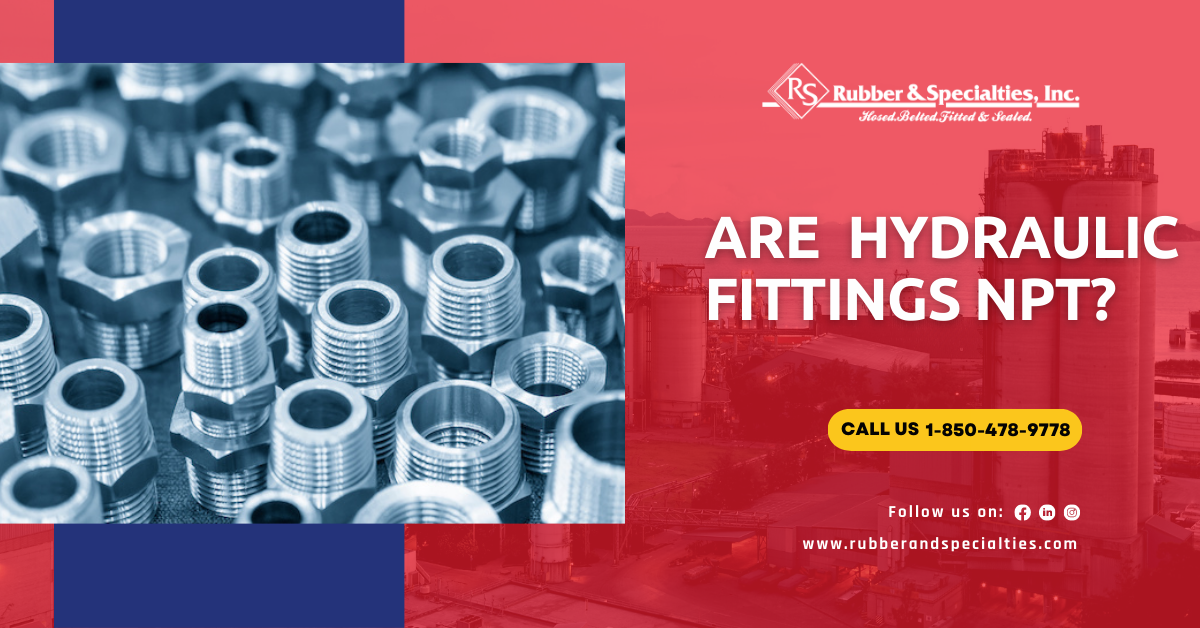 Are Hydraulic Fittings NPT?
Hydraulic fittings come in many sizes and styles. While NPT fittings (National Pipe Taper) are sometimes considered the most common thread style in the U.S. and Canada, others claim JIC (Joint Industry Council) SAE 37 fittings are the most popular in North America. Globally, the more practical metric threads are the most prevalent, with DIN (Deutsche Industrial Norme) German style being the most frequently used.
The popularity of JIC fittings is primarily due to their straight threads with a 37° flare seating surface which forms the seal, instead of an O-ring or the tapered threads of NPT. Additionally, there are O-ring face seal (ORFS) fittings which provide one of the best leak-free connections due to the elastomeric O-ring sealing surface. A fitting could be male ORFS to NPT, JIC, or any threaded combination.
How Do I Know If the Thread is NPT?
NPT/NPS (Nominal Pipe Size) threads have a 60° angle with flattened roots and crests, a style originally proposed by William Sellers in 1864. Sellers' thread form was subsequently adopted as the U.S. Standard. The flat roots and crests made the thread style easier to make and quickly became the adopted standard. They are an excellent choice for fluid and gas transfer.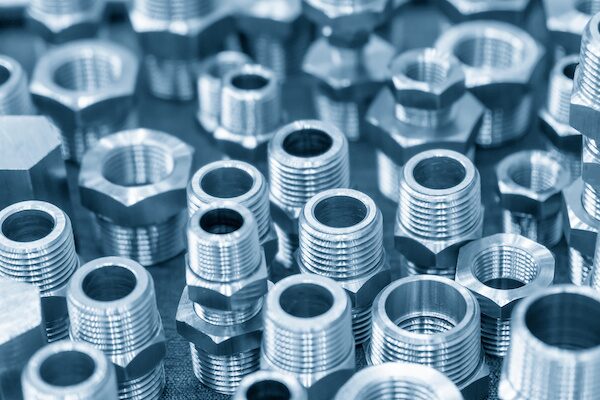 NPT may appear similar in size and dimension to the British BSP thread, though BSP has a 55° angle with rounded crests and roots (ISO standard). BSP fittings are not interchangeable with NPT, nor are they used with SAE- a straight thread style requiring an O-ring or gasket to form a seal.
Simply put, NPT fittings have the following distinguishable attributes:
• 60° angle between flat roots and crests
• Pitch is measured in threads per inch
• Taper has an included angle of 1°47′ (1.7833°)
Initially, NPT threads were not designed for hydraulic systems, but for  60 PSI water pipes. However, as the use of more durable materials such as steel and stainless steel became more prevalent, NPT fittings found their way into the world of hydraulics. For low pressure applications, brass NPT hydraulic fittings are the typical choice, while carbon steel and stainless steel are best for higher pressures and corrosive media and environments.
Which Style Should You Use?
Both NPT and JIC fittings have tapered ends, increasing the surface area of contact with mating fittings or components. NPT fittings are an excellent choice for many industrial machines and construction or agricultural hydraulic applications. As the NPT male taper mates with the female taper, the threads are crushed, creating a mechanical wedge. Yet it's best to use a thread sealant because of the minor clearance between the thread crests and mating roots, which can allow for a spiral leak path. It's generally not recommended to reuse NPT fittings due to thread deformation from overtightening during installation or potential stripped or cracked threads when disassembling. A good rule of thumb is to accurately inspect NPT fittings before reassembling and never reuse them more than two or three times.
Though NPT and JIC fittings are frequently used throughout hydraulic applications, it's best to follow the OEM equipment manufacturer's guidelines when selecting. Alternatively, simply use the same style that came with the equipment when making repairs or retrofitting other components. However, if building a new system or working on a rebuild, JIC fittings are usually the best choice. Their 37° flare angle provides better sealing capabilities and can withstand higher working pressures, while the NPT fittings rely only on their tapered threads and a thread sealant.
There are many other hydraulic fitting styles, from AN Fittings to thrust-wire, UN/UNF and even NPTF (National Pipe Taper Fuel).
Finally, NPT are frequently used for a broad range of common applications, such as electrical conduit, to piping carrying chemically aggressive liquids and high-pressure natural gas lines. NPT may be more popular with certain organizations or for specific purposes, yet JIC is often the best choice for a wider range of applications.
---
SOURCE: https://blog.brennaninc.com/are-hydraulic-fittings-npt